Your Africa tour just won't be complete until you visit magnificent Victoria Falls!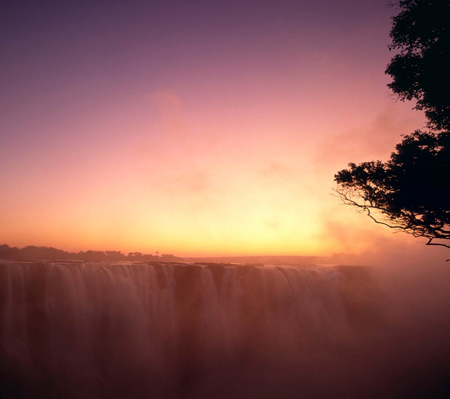 A natural wonder of the world! When you RV South Africa with Fantasy, you'll want to take advantage of the opportunity to visit one of the seven natural wonders of the world.  …Victoria Falls.  It's also named Mosi-o-Tunya which translates into "the smoke that thunders".  Even if you've stood at the foot of other waterfalls, there simply are no words to describe your experience as you stand witness to the single largest curtain of falling water in the entire world.
Fantasy will fly you round trip from Johannesburg to Zambia.  You'll stay at a modern deluxe hotel where you can take a plunge in the their beautiful pool, relax among the trees nestled in the courtyard or visit a native craft market.  The hotel is located so close to the falls that you'll be able to walk to them.   And, when you reach the falls, you'll marvel at the waters of the Zambezi River cascading down a vertical drop of 360 feet.
At Chobe National Park, which has the reputation of having Africa's highest concentration of elephants, you'll be treated to a guided game drive!  But, elephants aren't the only residents in the park.  It's also home to zebras, impalas, lions, giraffes, cheetahs and more than 400 species of birds!  Another treat?  How about lunch in a thatched roof hut?
Finally, you'll end your Africa tour with a farewell dinner on the Zambezi River Sunset Cruise.  What a finale!
Follow our guest's real life RV Africa Safari of our tour in progress RIGHT NOW…check out the recent blog posts.
We invite you to enjoy more information and updates about our life enriching vacations: